by Benjamin Raven Pressley
I think most spiritually minded people have some belief in spirits. Some people live in fear of the Devil like there is a devil behind every tree just waiting to pounce on them. Then there are some who don't believe there is a devil at all. Both of these positions are equally flawed and dangerous. There is a lot of misunderstanding about who the devil is and what the extent of his power is for sure. To really answer that question we need to start by going back to a time before man and before there was an Earth .
Consider these scriptures:
Ezekiel 28:13-15, " 13 Thou hast been in Eden the garden of God; every precious stone was thy covering, the sardius, topaz, and the diamond, the beryl, the onyx, and the jasper, the sapphire, the emerald, and the carbuncle, and gold: the workmanship of thy tabrets and of thy pipes was prepared in thee in the day that thou wast created. 14 Thou art the anointed cherub that covereth; and I have set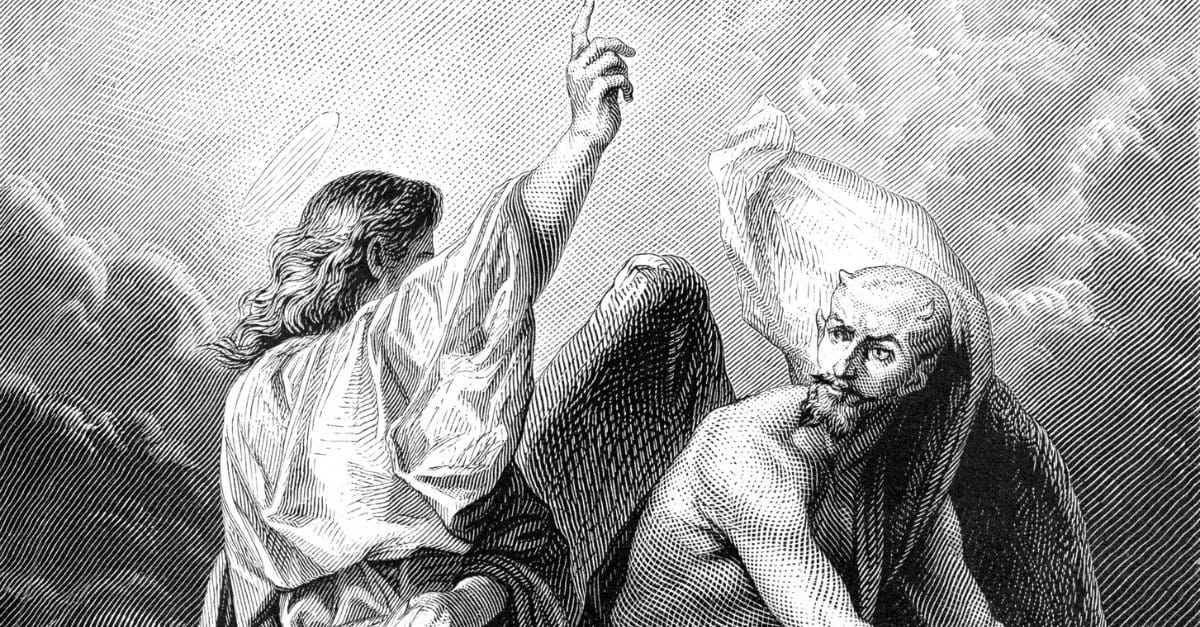 thee so: thou wast upon the holy mountain of God; thou hast walked up and down in the midst of the stones of fire. 15 Thou wast perfect in thy ways from the day that thou wast created, till iniquity was found in thee."
Isaiah 14: 12-15, "How art thou fallen from heaven, O Lucifer, son of the morning! how art thou cut down to the ground, which didst weaken the nations! 13 For thou hast said in thine heart, I will ascend into heaven, I will exalt my throne above the stars of God: I will sit also upon the mount of the congregation, in the sides of the north:  14 I will ascend above the heights of the clouds; I will be like the most High. 15 Yet thou shalt be brought down to hell, to the sides of the pit."
Luke 10: 18, "And he said unto them, I beheld Satan as lightning fall from heaven."
Revelation 12: 3-4, "And there appeared another wonder in heaven; and behold a great red dragon, having seven heads and ten horns, and seven crowns upon his heads.  4 And his tail drew the third part of the stars of heaven, and did cast them to the earth:"

    By these scriptures we can gather that originally Satan was an angel in heaven known as Lucifer. He was the archangel and praise leader in heaven. He was the most beautiful angel. No other place is there in scriptures that refers to an anointed cherub. He apparently held high rank in heaven as far as angels go. He decided in his pride that he was going to rule and take over God's throne and apparently persuaded a third of the angels in heaven to rebel with him. For his rebellion he and the angels that rebelled with him were cast out of heaven. He and these angels became disembodied spirits that we now know as demons.
Angels have freedom of choice just like we do but we have the opportunity to repent and be saved, they do not. How foolish of Lucifer, a created being, to think he could rebel against an almighty, all powerful God. So, let me get this straight. There is no duality in the universe. God and the devil are not equal beings duking it out for control of the universe. Satan is a fallen, defeated, created being. The Father, Son and Holy Ghost are in charge, always have been and always will be! Nothing the devil does or that we do for that matter takes God by surprise. Nothing! All will work out in the end for His glory. Just read the end of the Bible. God the Creator wins!

  Satan probably thought he had won when Jesus was crucified, but you know what? It was all part of God's plan. Satan didn't crucify Jesus anyway, read this. These are Jesus' own words.:  "Therefore doth my Father love me, because I lay down my life, that I might take it again. No man taketh it from me, but I lay it down of myself. I have power to lay it down, and I have power to take it again. This commandment have I received of my Father." (John 10:17-18). God is in control! Satan caused the entire human race to fall when he caused Adam and Eve to fall but Jesus redeemed mankind back. Jesus was the second Adam. Through Him we may be saved, Hallelujah!
Satan is defeated and we have authority over him. He is not over us! He has been put under our feet as the body of Christ. Ephesians 1:22 says, "And hath put all things under his feet, and gave him (Christ) to be the head over all things to the church". Luke 10:19 says, " Behold, I give unto you power to tread on serpents and scorpions, and over all the power of the enemy: and nothing shall by any means hurt you." Sure he is a formidable foe but we need not fear him. The only power he has over us is what we give him or that God allows. God showed me one time when we walk into a room that every
demon in that room is trembling when we walk in and just waiting to see what we are going to do. And most of the time they breathe a sigh of relief when we do nothing. God spoke to me and said we need to nurture this kind of awareness that when we walk into a room to know the demons are quaking in fear and take authority when we enter the room. Bind them (Matthew 18:18) and cast them out (Mark 16:17).
Satan is our foe nonetheless and we would be wise to learn about our enemy and how to battle him.  He is not to taken for granted but neither is he to be feared. 1 Peter 5: 8 says "Be sober, be vigilant; because your adversary the devil, as a roaring lion, walketh about, seeking whom he may devour:" It should be noted that he walks about 'as a roaring lion'. He is not a roaring lion, he walks about 'as a roaring lion'. I really want to keep things in perspective here. We shouldn't just take the devil for granted and blow him off like he is nothing but at the same rate too we need to keep in mind who he really is, a defeated foe and under our feet. Satan would like to keep us scared to death all the time and make us think he is a roaring lion that is going to devour us. That is why Peter says in this verse to be sober. He isn't necessarily talking about being drunk on alcohol here. He is telling us not to get drunk on fear, misinformation or even swing too much the other way and be haughty and not beware of the devil's devices.

    So how does the enemy approach us?  2 Corinthians 11: 14 tells us, " And no marvel; for Satan himself is transformed into an angel of light."  Does that mean he will literally appear as an angel of light. It is possible but not likely. What this verse means is he is going to appear in a form that does not frighten us, in a form that appeals to us, in a form we will be tempted by. You ever notice how in cigarette or alcohol ads you never see the person dying of emphysema from smoking too much or some innocent dead on the highway because of a drunk driver? No, the people in ads are always healthy, happy and got it all. Probably, truth be known, most of those actors don't even smoke. Anyway, that is the way the enemy comes to you to tempt you. He never shows you the consequences. He is only going to tempt you with something he thinks will tempt you. And for sure he doesn't appear in a red suit, pitchfork, pointed tail and horns!
Have no doubt though. You are in a spiritual battle, Satan and his demons want to see you fall. They want to see you go to hell not heaven. 2 Corinthians 10:3-6, "3 For though we walk in the flesh, we do not war after the flesh:  4 (For the weapons of our warfare are not carnal, but mighty through God to the pulling down of strong holds;)  5 Casting down imaginations, and every high thing that exalteth itself against the knowledge of God, and bringing into captivity every thought to the obedience of Christ;  6 And having in a readiness to revenge all disobedience, when your obedience is fulfilled." Wow. Take some time to concentrate and meditate on those verses awhile. You can't fight the enemy with fleshly weapons! In other words all your positive thinking or just going to church or changing this or that isn't going to win the battle.

    What is going to win the battle is realizing we are in a spiritual battle and fight it in a spiritual way with spiritual weapons. Those spiritual weapons are described in  Ephesians 6:10-18 "Finally, my brethren, be strong in the Lord, and in the power of his might.  11 Put on the whole armour of God, that ye may be able to stand against the wiles of the devil.  12 For we wrestle not against flesh and blood, but against principalities, against powers, against the rulers of the darkness of this world, against spiritual wickedness in high places.
13 Wherefore take unto you the whole armour of God, that ye may be able to withstand in the evil day, and having done all, to stand.  14 Stand therefore, having your loins girt about with truth, and having on the breastplate of righteousness; 15 And your feet shod with the preparation of the gospel of peace; 16 Above all, taking the shield of faith, wherewith ye shall be able to quench all the fiery darts of the wicked.  17 And take the helmet of salvation, and the sword of the Spirit, which is the word of God: 18 Praying always with all prayer and supplication in the Spirit, and watching thereunto with all perseverance and supplication for all saints; " Now we don't wear armor today like the people of Paul's time did when he wrote this but spiritually we need to be armed and dangerous. When we have on the spiritual armor these verses imply then we cannot be defeated.
Let's break it down: From the very start he wants us to get it straight that we must be strong in the Lord. He is the one that defeats the enemy when we come into agreement with Him and do things His way. It is "Not by might, nor by power, but by my spirit, saith the LORD of hosts." (Zechariah 4:6). Anything other than that and we are picking up those 'carnal' weapons again, trying to do it our way. All through the Old Testament we see the example God set for war. He would send singers and praisers in front of the armies of Israel (Read 2 Chronicles 20) and the enemy would defeat himself. Paul then goes on to describe our enemy. He says he isn't flesh and blood. He goes on to tell us he has a very well organized kingdom. Satan and his demons are not omnipresent. They are not everywhere at
the same time as God is but Satan is well organized and has demon princes, if you will, over different territories and over different people. Satan loves to imitate God. He isn't omnipresent but sure makes a lot of people think he is by being so well organized. Paul then tells us to take the whole armor of God. THE WHOLE ARMOR OF GOD.  You can't just have some of it on. The knights of old and the Roman soldiers of Paul's time knew that if there were a part of them that was not covered by armor and defended in some way that that was where the enemy might strike a blow against them. Same with us. We need the whole armor of God and then as this verse says we make our stand and even when we have done all we can do we still make a stand. Our stand is trust in God and in the weapons He has given us.
Now let's look at each piece of this armor. "Having your loins girt about with truth". Our loins can be defined as our most tender places. What areas are you most vulnerable and weak in? For most of us it is in our thoughts and mind. He says know what your weakness is and then apply the truth to it. For example, we think we are weak, He says we are strong. Study and train your thinking to think like Word of God says instead of all that defeated thinking.
"And having on the breastplate of righteousness". We are not righteous in ourselves (Isaiah 64:6) but we do not stand in our righteousness we stand in the righteousness of Jesus Christ. Read Roman 6, study it, comprehend it. We are, as it says in verse 5, "PLANTED together in the likeness of His death, we shall also be in the likeness of His resurrection".
And, what about, "your feet shod with the preparation of the gospel of peace"? What is He saying here? What are we to be grounded in? The answer? PEACE. There is not a soldier whom one piece of this armor will do any good if his feet are cut out from under him. And the Christian won't be able to stand if he doesn't have a sure standing and foothold in PEACE. This is what holds us to the Rock. Our peace and assurance we have in knowing that no matter what comes against us we need not be afraid or shaken. We can experience peace.

    If you don't know it already, I'm going to tell you. The biggest part of the battle you will fight is in your mind. Oh yeah, Christians are made or they lose depending on where their mind is established. Bible says, He will keep him in perfect peace whose mind is stayed on Him. And again, He has not given us the spirit of fear but of love and peace and a sound mind (2 Timothy 1:7). Romans 12:1-3 says, " 1 I beseech you therefore, brethren, by the mercies of God, that you present your bodies a living sacrifice, holy, acceptable to God, which is your reasonable service. 2 And do not be conformed to this world, but be transformed by the renewing of your mind, that you may prove what is that good and acceptable and perfect will of God. 3 For I say, through the grace given to me, to everyone who is among you, not to think of himself more highly than he ought to think, but to think soberly, as God has dealt to each one a measure of faith."
Phil. 1: 28 says, " And in nothing terrified by your adversaries: which is to them an evident token of perdition, but to you of salvation, and that of God."
Don't be terrified, filled with fear. The enemy can smell fear. That is his weapon. False Evidence Appearing Real. What is real to you? The Word of God needs to be more real to you than the storms around you. Why is it Jesus could rebuke the storm? Because He was peace. The storm could not withstand Him. And the storms of life cannot withstand you if you know in whom you are established, who is your peace.

  I think the worst enemy we have sometimes is ourselves. I think sometimes God allows us to go through some things until we learn to rest in Him and to be at peace. Give it to God. As long as you want to fight it yourself God will let you. As long as you fight it the way you think it ought to be fought using all those weapons of the flesh you won't do anything but get worn out. Sure, it may not be easy but Bible says God laughs at his enemies (Psalms 2:4). We have to find that place where we can have joy in the midst of our problems. The joy of the Lord is our strength. What does that tell you? If devil can rob you of your joy, he robs you of your strength. Why do you think he works so hard at stealing our joy?
So, where do we get this joy? Psalms 16:11 tells us: "Thou wilt shew me the path of life: in thy presence is fulness of joy; at thy right hand there are pleasures for evermore. " Read the Word of God. Memorize it. Study it. Let God speak to you through it. He is your strength. Say the Word of God out loud. Why? Because when you do, your ears hear it and it gets in your mind and soul and spirit. The devil hears it and flees. God hears it and honors it as you come into agreement with Him and His word. This is the 'preparation' part. Remember your feet shod with the PREPARATION of the gospel of peace. You can't wait till you are in storm then study. No, prepare yourself everyday whether you are going through a storm or not. So many Christians wait till they are going through something to pray and cry out to God and search His Word. Prepare ahead of time! Let Holy Spirit guide you daily. He knows what is ahead not you.

    Verse 16 says, "Above all, taking the shield of faith, wherewith ye shall be able to quench all the fiery darts of the wicked." Now Hebrews 11: defines faith for us, "Now faith is the substance of things hoped for, the evidence of things not seen."  When life comes at us like fiery darts and we think surely we will be destroyed we have to see with eyes that God gives us, eyes of faith. When we see through these eyes then it is like raising up a shield and this verse says Satan's fiery darts will be quenched. And isn't it interesting that he says 'above all' take the shield of faith. The shield is the first active piece of armor in this list.  Even before the Sword of the Spirit. Why is that? Because if we don't lift the shield of faith and have not faith the rest of the armor , I won't say is of no effect, but the rest of the armor can't stand up to what the shield of faith can stand up to. The shield of faith is in our hand, Bible even says He has dealt to each of us a measure of faith (Romans 12:3), but we have to engage it. How do we do this? By believing! Believing and faith are not the same thing. Faith is like having a gun in your hand capable of bringing down a charging elephant but believing is like pulling the trigger! If you don't pull the trigger then you will be trampled under foot although you had a weapon capable of bringing down the elephant. And how do you get faith? "Faith comes by hearing and hearing by the Word of God." (Romans 10:17). Just reading the words on a page is not the same Rhema, hearing the Word of God speaking in your spirit. When it becomes revelation and understanding to you then faith is born.
Verse 17 speaks, " take the helmet of salvation". Yes, all that we are talking about here means nothing if you are not born again or saved as some call it. In John 3:3 Jesus said, "Jesus answered and said unto him, Verily, verily, I say unto thee, Except a man be born again, he cannot see the kingdom of God."  And in verse 16, "For God so loved the world, that he gave his only begotten Son, that whosoever believeth in him should not perish, but have everlasting life." I think it is significant that the symbol of salvation in this metaphor is a helmet, something that covers the head. Jesus is the head and we are the body. Because He is the head we are saved, because of His life and sacrifice we live. He has us covered as the head and the head directs all things of the body. And as a helmet protects the head and the brain so our assurance of salvation guards our mind and thoughts.

    What about, "the sword of the Spirit, which is the word of God"? This is the other active piece of armor. This is something we must learn to wield. We have to know when to apply it. When Jesus was tempted by the devil in the wilderness while fasting 40 days (Matthew 4. Luke 4) the devil tried to even use the written Word by misapplying it but Jesus knew the Word and how to apply it. He is our example. The enemy cannot withstand a blast of THE TRUTH. But it is only the truth and a sword if it has become revelation and Rhema to us. I don't want to repeat myself and I cover this thoroughly in my chapter on 'How To Sudy The Bible'. But at the risk of repeating myself let me just say, Hebrews 4:12 says: "For the word of God is quick, and powerful, and sharper than any two-edged sword, piercing even to the dividing asunder of soul and spirit, and of the joints and marrow, and is a discerner of the thoughts and intents of the heart." I have heard it said all my life that the Bible is your sword. But I have news for you. It isn't. It is no more than words on a page if you don't approach it right. It is no more than words on a page if you don't let it get deep down inside of you and let it speak to you in your innermost being. The devil isn't scared of you carrying around a Bible. You can carry around the biggest family sized Bible you can get and he still isn't scared. What scares him is when you start reading it and studying it and believing it. Then it becomes a powerful two-edged sword. So, the written Bible in itself is not a sword. It is more like a storehouse for the swords. The swords are in there. They are sharp and powerful. But you have to draw them out.
And then Paul ends his dissertation on the armor of God with, "Praying always with all prayer and supplication in the Spirit, and watching thereunto with all perseverance and supplication for all saints; ". Do not ever underestimate the importance of prayer. I have a whole chapter on prayer in this book. Let's not overlook the word supplication in this verse. If you look it up in a dictionary it means to humbly entreat God. And that is a good definition but let's look at the root of that word, 'sup'. This is a word we don't use anymore but during that time and for many centuries it meant to come and dine, to eat, to take food in slowly and enjoy it. Jesus said in Revelation 3:20, "Behold, I stand at the door, and knock: if any man hear my voice, and open the door, I will come in to him, and will sup with him, and he with me." So, perhaps Paul is trying to emphasize the importance of prayer is like feeding our spirit the way food feeds our body. 'Sup' with the Holy Spirit and with the saints. Spend time in His presence and in the love and unity of His people.
Yes, we have an enemy but I think the Bible makes it clear that we are to stand against him and we are to win. I heard a preacher make a very profound statement on spiritual warfare that was so simple yet so powerful and it was this: "Spiritual warfare in its simplest form is when the enemy comes against you and you don't react the way he wants you to." When he comes against you with fear, don't be afraid. When he comes against you with worry, don't worry. Stay steadfast, focused. "Thou wilt keep him in perfect peace, whose mind is stayed on thee: because he trusteth in thee. " (Isaiah 26:3)
Posted by: wayofth9 on December 20, 2019 Category: Uncategorized previous - next